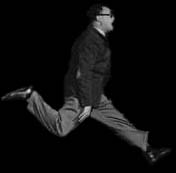 Welcome to the first fansite completely devoted to radio star, television personality, recording artist and author Jim Hawthorne!

This just in as of 1:45 am, November 7, 2007: "It is with a heavy heart that inform you fans of the passing of our Father, Jim Hawthorne. He died this afternoon shortly after visiting with him at the Buena Vista Care Center in Goleta, CA. He was sedated, but was able to say a few words. It did not appear that he was in any pain, it was just his time. More details as they become available, thank you all for your fanship of our Dad. Darr & Scott Hawthorne"

Rest in peace, dear Jim. You will be greatly missed by colleagues, fans, family and friends alike.

This webpage is for fans who originally grew up listening to or watching Hawthorne, as well as fans (like me) who were born too late to catch him the first time around, but who have discovered him through old records, airchecks and videos and want to know more about him: past and present. For those unfamiliar with Hawthorne's work, one of his earliest popular catch words was "hogan", substituted into words and phrases for comic effect, and he dubbed his fans "hoganites". As a relatively new hoganite myself, my Hawthorne collection is far from large, but with diligence and sharing with other hoganites, has grown a lot since this page was first published on the web in 1998. So keep checking back here as well as our Yahoo group for Hawthorne fans, which posts all current Hawth news and info. In the meantime,...I think I hear Hawthorne's Duolyka...or is it his hogantwanger?? Hey, it's playing along to "So Long Letty"! It must be HAWTHORNE!......