SOUNDAHOGANS!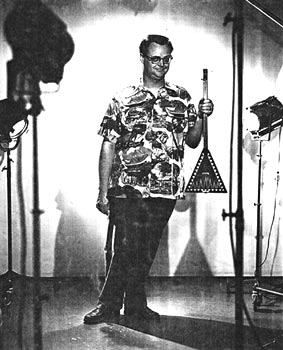 Here are some short musical excerpts from Jim Hawthorne.
See "Hawthorne on Records" section for recording details.


AIFF sound files are recomended for Macintosh OS.



WAV sound files are recomended for Windows.
(30 sec to 3 min download depending on modem)



Real Audio sound files will play almost immediately, but you will need to download the RealAudio player if you don't have it.







The Hogan Song (10 secs)





Nyok, Nyok, Nyok (30 secs)





Serenade To A Poodle (20 secs)





Turn Your Head Sweetheart (30 secs)

NEW!
BR>Finally! You can hear an original Hawthorne show aircheck from KXLA 1947! PEACHY KEEN! Courtesy of WFMU New Jersey, here is a link to some vintage hogan in it's entirety.

Hawthorne's 30 minute evening radio show on KXLA from 1947.


Hawthorne with his famous duolyka, circa 1970.: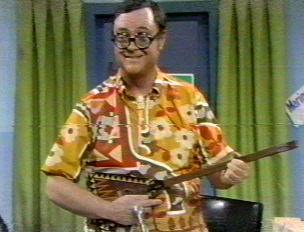 CELEBRITY QUOTAHOGANS:

"Another clever performer on the Los Angeles scene in the late '40's was Jim Hawthorne, who I've sometimes referred to as the West Coast Ernie Kovacs since both men specialized in fresh, inventive sight gags and camera tricks, rather than simply doing radio comedy on TV as other comedians of that time did. Hawthorne looked like a cross between Garrison Keillor and me. After CBS brought me to New York, I understandably lost track of the local Los Angeles scene, and therefore was no longer able to enjoy Jim's creative work."
- Steve Allen, from his book "Hi-Ho Stevereno, My Adventures in the Wonderful Wacky World of TV"

"I have been called the Hawthorne of the 90s. Wrong -- there is only one Hawthorne. The way he carried on with his own unique concept of what radio should be will always be an inspiration, though. Also, he has taught me that certain musical anachronisms are truly timeless. I dig his singing, too."
- Dr. Demento

More celebrity quoteahogans to come, from celebs all over who love Hawthorne!




PHOTAHOGANS:

Hawthorne posing with a lucky fan, Andrea Walsh, at his most recent public appearance, where he was a guest speaker on a panel at the Museum of Television and Radio. Skippy took the photo!






Four pictures of Hawthorne and his Hogantwanger from the Sperdvac Convention, Los Angeles November 1990: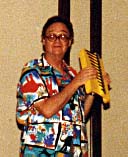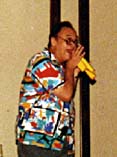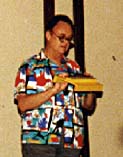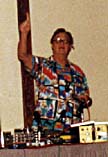 Hawthorne's own private scrapbook pictures, shared only with loyal Hoganites!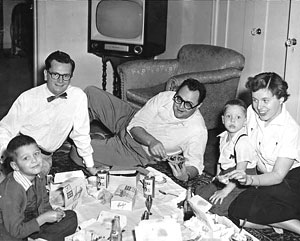 The Hawthorne family and a friend, enjoying a picnic on their living room floor, circa mid 1950's.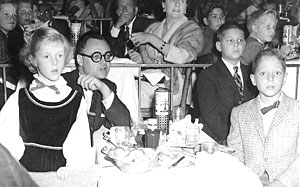 Hawthorne and his three adorable kids, intently watching something on stage at The Moulin Rouge, Hollywood, circa late 50's.



Thank you Jim, for sharing your photos with your fans!



e-mail Hawthorne at jimhawthorne@sbcglobal.net

e-mail Andrea (webmistress) at petquality@sbcglobal.net