Interviewer: Andrea Walsh 1998.

Q: How did you get your start in radio?
A: It was in Denver -- at KMYR in 1940. I was still attending D.U. and read a story in broadcasting magazine that a new station was planned for the mile high city. Both Bill Ballance and I applied the same day and went to work for the station that was not yet on the air. I was the first voice on the air, doing a test.

Q: You were on TV in it's early days. Did you ever have the opportunity to meet Ernie Kovacs?
A: I had never heard or seen Kovacs until years after I was on the air in L.A. --- loved his trio with the sticky dough in the drum tubs. Nairobi Trio -- a show on ABC, I think. Great talent.

Q: What can you tell us about the weather shows they have of yours at the Museum of TV and Radio in Beverly Hills, and the KYA radio segment that they also have?
A: I gave those weather shows to KTLA when I did their 45th anniv. show in the 1980's, I think. As for the KYA bit, I went up there for a year or so and re-formatted the station, created a gimmick called "voice your choice", and returned to So-Cal go to KFWB (color radio) when it went on the air, simultaneously, I went into film production and did a flock of 1/2 hour and 5-min. shows in the early 1960's.

Q: What was radio like in the early 40's when you started, and how did it change in LA after you came on?
A: Very conservative (not politically) but you could be fired for uttering "hell" or "damn" and there was room for imagination at the independents but not the stodgy networks.

Q: What were the names of your radio characters? (Besides Skippy, Scrappy, Cosmo, & Eggbert) and can you relate any thoughts as to their creation? Was Eggbert a real person at first, or was he always you?
A: Eggbert was the engineer who I told listeners was a trained dog. Later on TV, I called the camera Eggbert and his pusher was Jim Hobson who later went with Lawrence Welk as his producer-director and stayed with him over 30 years. Scrappy was simply the name (very apt name) for a piece of paper I used to talk to regularly. You'd swear that you could understand the paper as I rattled it -- a real interesting illusion.

Q: What made you pick "So Long Letty" as your theme music?
A: I was going thru some ancient records and the tune just mesmerized me.



Q: How did the whole "Hogan" thing come about?
A: I have now, on the www.trains-tracks-trolleys.com pages, a complete reproduction of a 1948 magazine article that explains this and dozens of other things on the show---check it out. (Interviewer notes-as of May 2003 this page is no longer on the web, hopefully I can reproduce it within these pages soon.)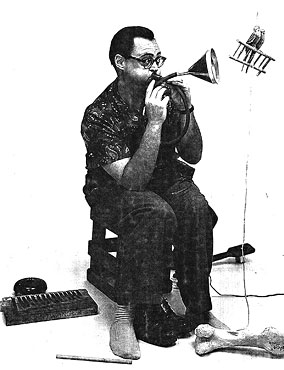 Q: How did you come to make "Serutan Yob"? What was Red Ingle like?
A: Red Ingle had nothing to do with the record as there was a recording ban and he stayed away---not "nothing"-- he really did all behind the seen -- I did all the other stuff. It was recorded in a small studio in Hollywood, but there were some of the best engineers ever-- they were Armed Forces guys who were actually mostly civilians working for the government doing shows for beaming overseas via Armed Forces Radio. All I had to do with the recording is that I showed up at the studio with my hogantwanger (an instrument made of graduated hacksaw blades mounted upon a wooden frame) and a Duolyka (from England, by the way, -- a 2 string "guitar-like" instrument that's played like a steel guitar). The piano was a toy piano, played, I think, by Red Ingle's agent. Everything else on the disc was me, except for the "argument" at the end of the piece -- those guys were hanging around the studio, and I have no idea who they are. The female vocalist was dubbed in earlier and played to me via earphones. As I said, there was a musician's strike on and that meant NO legitimate instruments could be used.

Q: There seems to be some dispute about whether the girl vocalist on "Serutan Yob" is really Jo Stafford under the pseudonym of Karen Tedder. Can you shed any light on this?
A: As for Karen Tedder being Jo Stafford, I was told that in recent years, and I never met Karen Tedder (the gal on the record) until years later--it was all done via overdubbing on disc, but in Hollywood, fiction is sometimes less than than that. Sooooo let's just leave it as one of those mysteries of life ( I am the other!) :) Interviewer notes: K.T. was definitely the vocalist.

Q: What is the story behind "Nyok Nyok Nyok"?
A: (It was) A Japanese record originally called the Badger's Corus of Shojoji Temple. My (then) wife phonetically transcribed the lyrics. The head of RCA Victor heard me on the air and called and wanted to know if I'd be interested in making a record of the tune---I did, plus 3 others, including Make Love with a Duolyka, and a couple of others whose names I have forgotten.




Q: Can you tell a little bit about your work with Joe Besser?
A: Joe was a loveable guy with a lifetime of comedy---The original writer-director of the 3 Stooges pix called me and said he wanted to team me with Joe---we made 4 shorts until Columbia stopped ALL short subject production as an economy move.

Q: I recently acquired a couple of your old shows, one from KECA, and one from KIEV. What can you tell me about these?
A: I never cared for the ABC stuff -- it always felt contrived to me. I had to re-record all of the tracks and they sounded awful, I thought. The KIEV programs were very good. Did you know my son Darr engineered those shows? He had never done it before, but I think he was better than some techs I had at times.

Q: I read that you were working on your autobiography, are you?
A: Autobiography? Nope---I did write approximately 50 newspaper columns about me and early daze of TV/radio when I was writing for a group of San Diego papers---with those I have a nucleus.

Q: Are you well?
A: Yup---somehow I stay pretty well, especially since I stopped eating red meat and dairy products a couple of years ago.

Q: Can you tell me about a show I have with you interviewing Stan Freberg?
A: That was from a midnight show I did on KNX radio--I took over Steve Allen's slot when he went to NY for the Tonight Show in the early 50's.

Q: I also have a show you did called " Musical Department Store", for Armed Forces Radio Service.
A: M.D. Store was while I was on KXLA (now KRLA) about 1945-6-7.

Q: Can you possibly suggest anywhere I can find your past TV shows?
A: Practically NONE exists--during the production of KCOP's recent 50th anniversary show, the producer, Mitch Waldow, uncovered a couple of kinescopes--about a total of less than a minute--and added some audio from an old radio show of mine for teasers to run in the news plugging the upcoming show. Other than that, nothing.

Q: Do you have any of your old shows?
A: I never had tapes of my TV stuff-remember kines didn't exist and the stuff mentioned above were TESTS--and they tossed them after checking the quality.

Q: Do you have lots of fans who e-mail you?
A: Yup--I get about a half-dozen new ones a week, after half a century! And I love every one of the communications!!!




Amazon.com talks to Jim Hawthorne

Amazon.com: How did you begin writing? Did you intend to become an author, or do you have a specific reason or reasons for writing each book?

J.H.: Being 78 years old, with a background prior to retirement in radio, television and motion picture production, it is natural that I continue with what I excel in -- writing. My hobby (one of them) is railroading. I've been a "Railfan" since I was a child in Victor, Colorado, where up to 50+ trains a day chugged in and out of the mining town called, "The Greatest Gold Camp in the World."


Amazon.com: What authors do you like to read? What book or books have had a strong influence on you or your writing?

J.H.: Virtually all of my reading is in the showbiz category. My library consists of over 1,000 tomes on the subject. As for "strong influence," being a member of a sort of screenwriters' fraternity, I learned very young what goes into a good story. I was a member of Writers Guild of America in Hollywood as well as Screen Actors Guild and American Federation of Radio and Television Artists (AFTRA).


Amazon.com: Could you describe the mundane details of writing: How many hours a day do you devote to writing? Do you write a draft on paper or at a keyboard (typewriter or computer)? Do you have a favorite location or time of day (or night) for writing? What do you do to avoid--or seek!--distractions?

J.H.: I have never had a "writer's block" -- I just sit down at the keyboard and let the ideas flow -- and they do flow as I am able to start writing not knowing exactly what will come out. That, of course, for creative writing -- as for "Trains, Tracks, & Trolleys," that writing came after a year or more of research.


Amazon.com: Do you meet your readers at book signings, conventions, or similar events? Do you interact with your readers electronically through e-mail or other online forums?

J.H.: Haven't, but will. After years before live audiences, I can hardly wait to renew that phenomenal and satisfying contact with the :Great American Public," unless, of course, I travel abroad or to a nearby country.


Amazon.com: When and how did you get started on the Net? Do you read any newsgroups such as rec.arts.books and rec.arts.sf.written, mailing lists, or other on-line forums? Do you use the Net for research--or is it just another time sink? Are you able to communicate with other writers or people you work with over the Net?

J.H.: I was introduced to the net by my two sons, Darr Hawthorne and Scott Hawthorne, both of whom are active in motion picture production (Darr) and software (Scott)



That's it for now, but there'll be more Q and A with Hawthorne to come. if you'd like to ask Hawthorne a question, you can e-mail him directly at jimhawthorne@sbcglobal.net, or e-mail Andrea (webmistress) at petquality@sbcglobal.net, and I will get the answer and post it for everyone to read and enjoy.