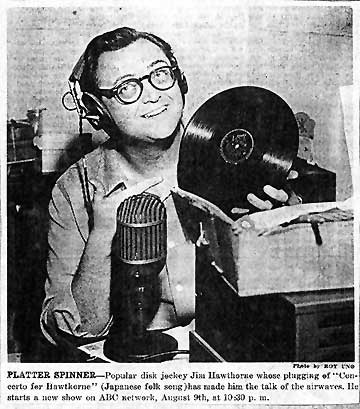 Here is an extremely rare original membership card for the Royal Order of Hoganites! Fans got this after writing in to his ABC show. Notice it's signed by both Hawthorne AND Skippy! Thanks Jim, for sharing this priceless piece of hogan history!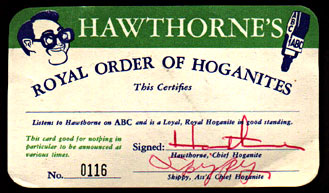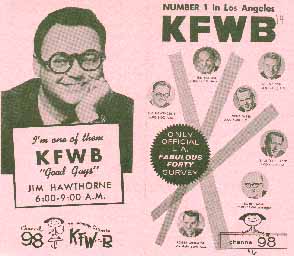 If you've ever heard Hawthorne on the radio, you know how hysterically funny, crazy, corny, weird and wonderful he is. If you haven't, well, are you in for a treat! He is famous for messing up the records, slowing them down, speeding them up, scratching the needle across them when he gets bored, or just stopping them altogether, any time he feels like it! And his sponsors fare even worse, as he abuses their "stinking spots" even more than the music. But it makes you listen, and laugh...and along the way, hear some really great music.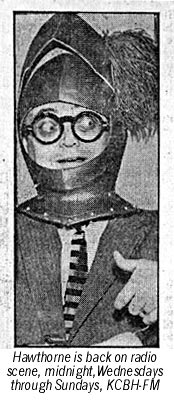 &nbsp On his KXLA show, he played lots of Homer and Jethro, Buddy Baker, Spike Jones, Red Ingle, Slim Coates, and alongside them, played antiques like Prince's Band, Arthur Pryor, and Billy Murray! His playlists are as eclectic as his cast of characters, most of which he voiced himself. Hawthorne's eternally inept engineer, Eggbert, his sidekick Skippy, his paper friend Scrappy, Cosmo, plus many others all made up his crew. To hear a vintage KXLA Hawthorne show is as funny today as it was originally, if not more so, and is a refreshingly creative and oddly decadent change from modern radio shows. To hear his "straight" shows is a pleasure as well, as he still injected his one-of-a-kind brand of humor into his seamless sets. His later recreations (in the 1980's and 90's) of the original KXLA show are marvelous, and amazingly, just as funny as the 1940's shows. Once you hear any of his radio work, it's easy to understand why he was so successful- he revolutionized a stale medium and created the genre of "personality" radio! He is definitely one of radio's first unique personalities.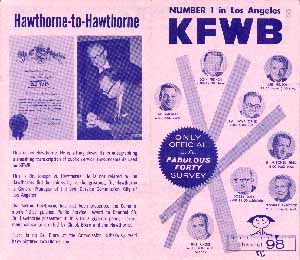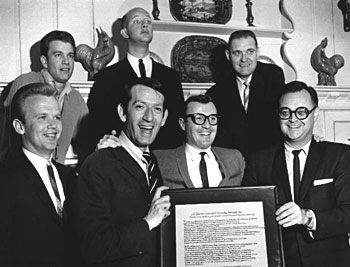 Hawthorne with the on-air personalities of KFWB, circa 1961.


There are very few surviving transcriptions of Hawthorne's radio shows. If you have any old Hawthorne airchecks, films, magazine articles, photos, or recordings PLEASE SHARE THEM!

Here is a list of the radio shows that exist today, collected from many sources over the years. Please contact me if you are interested in CD or cassette copies of any of these. KXLA: 6-9-47 Approx. 30 minutes
KXLA:6-10-47 Approx. 30 minutes
KXLA:8-15-47 Approx. 30 minutes
Musical Department Store: circa late 40's
AFRS(Armed Forces Radio):number unknown, circa 1948
AFRS #10, #13, #16, #18: presumeably 1948
Chesterfield Supper Club: circa 1948 Jim does "Serutan Yob" live
KECA: 11-19-48
ABC: circa 1949 "Hawthorne's Adventures" with Dennis Day, Daws Butler & Ike Carpenter's Orchestra
ABC/Mutual: circa 1949 Pilot show "The Hawthorne Thing" with Mickey Katz, Daws Butler & Ike Carpenter's Orchestra
KLAC-TV: circa 1950 several minutes of audio recorded off TV
ABC: circa 1951 Approx.15 minutes
KFWB: circa 1960 opening of 6-12 pm show only
KNX: circa 1952 Interviews Stan Freberg, approx. 15 minutes
KNX: 4-30-53 Celebrity interview / chat show
KDAY: Pacific Drive-In Theatre pre-movie and intermission show circa early 1960's
KPFK: 6-69 Tribute show compiled by son Darr Hawthorne
KOA: 6-74 Approx. six hours midnight-6am
KOA: 6-74 Approx. six hours midnight-6am
KOA: 3-7-87 Re-creation of KXLA format, Approx 1 hour
KIEV:3-21-91 Re-creation of KXLA format, Approx. 2
hours


If you would like to hear a tiny bit of hogan, go to our "Soundhogans" page, or e-mail us at petquality@sbcglobal.net for more info.